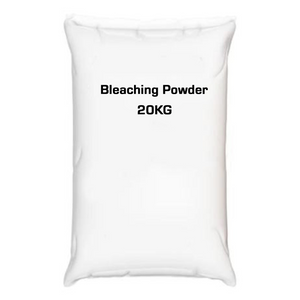 Bleaching Powder
Regular price $102.60 Sale
*Product images are for illustrative purposes only and may differ from the actual product.
Bleaching powder also known as chlorine powder or chlorinated lime. It contain Calcium Hypochlorite as the active ingredient to remove colour from materials. It comes in white solid and has a strong smell of chlorine. Bleaching Powder is widely used in textile industry for bleaching cotton and linen and for bleaching wood pulp in paper industry. 
It is a strong oxidizing agent and should not be stored wet and hot, or near any acid, organic materials, or metals.
Properties

| | |
| --- | --- |
| Cas no | 7778-54-3 |
| Synonym | Chloride of lime, chlorine powder, chlorinated lime |
| Chemical Formula | CaCl2O2 |
| Physical State | Powder |
| Appearance | White crystalline powder. Strong odor, chlorine-like, slightly soluble in water |
| Purity | 35% |
 

Safety Information
| | |
| --- | --- |
|  GHS Label | |
| Signal Word | DANGER |
| Prevention | Keep away from heat/sparks/open flames/hot surfaces. No smoking. Take any precaution to avoid mixing with combustibles/organic material. Do not breathe dust/fume/gas/mist/vapours/spray. Wear protective gloves/protective clothing/eye protection/face protection. Keep/Store away from clothing/organic material/combustible materials. Do not eat, drink or smoke when using this product. Avoid release to the environment. |
| Storage | Store locked up. |
| Personal Protective Equipment | Breathing apparatus. Chemical splash suit. Chemical goggles. Safety glasses with side shields. Protective gloves. Safety gumboots. |
Packing Size
20kg Bag