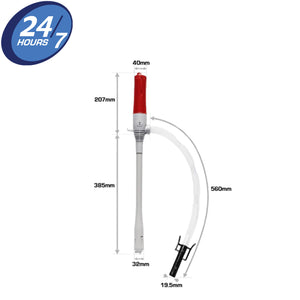 Battery Operated Pump with Auto-Stop & Buzzer
Regular price $48.60 Sale

Now available on GrabMart Islandwide delivery.

Features & Applications
Suction type : Battery operated submersible motor type
Applicable liquids : Gasoline, kerosene, diesel, light oils, water & etc.
User-friendly ON/OFF switch
Auto Stop before overflowing by sensor
Auto Stop with acoustic signal
Suitable for Go-kart gasoline refilling, pesticide transfer application or aquarium water changing
Specifications
Delivery volume : About 9 Litres/Min (2.4 Gallons/Min)
Main material : P.P, P.E, Acetal, ABS
Power : DC 3V ("D" size battery X 2)
Pump up to about 4,000 Litres(1,056.7Gallons) with 2 "D" size batteries
Total Length : 592mm(23.3")
Suction tube length : 385mm(15.2")
Suction intake dia. : 32mm (1.26")
Head outer dia. : 40mm (1.57")
Discharge tube length : 560mm(22.0")
Discharge tube outer dia. : 19.5mm (0.77")
Net weight/pc : About 223g(7.87Oz)
NOTE: Use for liquids drummed in 20L tins only.
Batteries sold separately
This product is now available at our 24/7 "One-Stop Shop".
Click here for menu.
Singapore's only 24/7 Race Fuels, Methanol & Adblue "One-Stop Shop" now open! Motor sports enthusiasts will be able to purchase VP Racing Fuels & Lubricants, BestChem Methanol as well as Adblue round the clock at 60 Senoko Road, Singapore 758124.