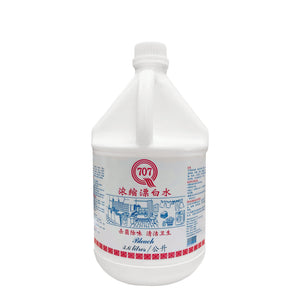 707 Bleach

Now available on GrabMart Islandwide delivery.

707 Bleach is a powerful liquid disinfectant and cleaner to remove tough stains quickly and effectively kills 99.9% of viruses and bacteria. It is suitable for F&B, Hospitals, Schools and Households for cleaning and disinfecting of most hard surfaces such as floor tiles, kitchen sinks, table tops, toilet bowls, drains and also use to whiten laundry.
This product's ingredient is listed in NEA's Interim List of Active Ingredients for Disinfection of COVID-19 (Coronavirus Disease 2019) Virus.

https://www.nea.gov.sg/our-services/public-cleanliness/environmental-cleaning-guidelines/guidelines/interim-list-of-household-products-and-active-ingredients-for-disinfection-of-novel-coronavirus 
DIRECTION OF USE
For disinfection/cleaning use: 
Clean surface with soap water.
Rinse with clean water.
Sanitize using a mixture of 1 part of 707 Bleach with 5 parts of water.
Leave for 10 minutes for complete disinfection, then rinse and air dry.
For laundry use:
Sort laundry by colour. Avoid bleaching wool, silk, leather, linen and colorfast cotton.
Add 150ml of 707 bleach with laundry detergent with full load wash water for machine wash.


ACTIVE INGREDIENT
Sodium Hypochlorite 3.25% v/v


PACKING SIZE

3.6 Litre Bottle