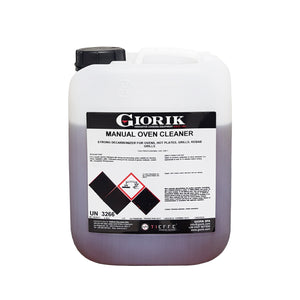 Giorik Manual Oven Cleaner
Regular price $70.20 Sale



Now available on GrabMart Islandwide delivery.



Giorik Manual Oven Cleaner

The professional maintenance products for the effective solution in: Outdoor space maintenance, Floor maintenance, All kind of maintenance, Building maintenance, Vehicle maintenance and many more.
Liquid Degreaser Detergent For Ovens And Grills
Giorik Manual Oven Cleaner is a liquid detergent formulated to manually remove cooking residuals of sauces, oils, etc. from ovens or grills. It has an effective cleaning and descaling action.
Characteristics
clear, slightly viscose liquid
non-flammable
easy to rinse
completely biodegradable
caustic
Suitable to clean OVENS, GRILLS, HOT PLATES etc.
It removes dirt and eliminates bad odours.
Directions For Use
Use Giorik Manual Oven Cleaner pure, as received in its container, by applying on the parts to be cleaned (better if still warm) with a sponge, cloth, or by spraying it on the parts.
Let it work for 5 to 10 minutes, or longer for stubborn dirt.
Wipe with a cloth or a sponge and rinse abundantly.
IT MUST NOT be used on aluminum. 
Packing Size:
5 kg Canister