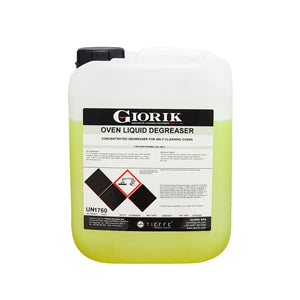 Giorik Oven Liquid Degreaser
Regular price $70.20 Sale



Now available on GrabMart Islandwide delivery.



Giorik Oven Liquid Degreaser

The professional maintenance products for the effective solution in: Outdoor space maintenance, Floor maintenance, All kind of maintenance, Building maintenance, Vehicle maintenance and many more.
Concentrated Degreaser For Self-Cleaning Ovens
It is an alkaline concentrated degreaser designed for use with ovens with automatic cleaning systems. The use of this product allows the cleaning and hygiene of the interior of the oven when hot or cold at the same time prolonging its life.
Removes stubborn stains including burned grease in a single cycle. 
Can be used with all the self-cleaning and convention ovens. 
Avoid contact with aluminum.
Instructions For Use
Put the product into the container of the integrated cleaning system 
Operate the washing system and follow the procedures and dilutions specified by the manufacturer of the oven. 
Always wear safety goggles and gloves when handling the product 
Ensure the hygiene plan for detailed operating information.
Packing Size:
5 kg Canister