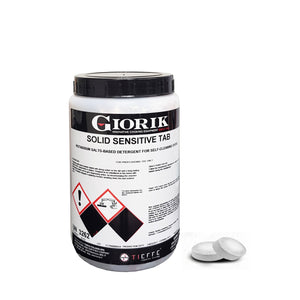 Giorik Solid Sensitive Tab
Regular price $48.60 Sale

Now available on GrabMart Islandwide delivery.

Detergent & Sanitizing Powder Tablet For Self-Cleaning Ovens
TIEFFE chemical solving has studied SOLID SENSITIVE TAB for the cleaning phase inside the professional self-cleaning ovens. It has a strong decarbonising action on cooking residues and adds a sanitizing one by destroying odors and bacterias.
Directions for use
Why to choose SOLID SENSITIVE TAB
Easy to use
SOLID SENSITIVE TAB is easy to use. You just need to place the tablet on the grill in the middle of the oven chamber and activate the self-cleaning oven cleaning cycle. 
Download the directions to use
Long lasting life to your oven
SOLID SENSITIVE TAB ensures long life to your oven because it doesn't attack the materials of its chamber and all the washing contact parts.
Green perspective
Liquid detergent comes in plastic bottles which are not environment friendly. Tablets have compact bag packaging.
No moving parts
Liquid detergent needs pumps to introduce the chemical into the oven cavity. Tablets don't require pumps.
Less leak points
Liquid detergent requires hoses and fittings to introduce the chemical into the oven cavity. Each connection has the potential of being a leak point. Tablets have no leak points.
Space optimization
Tablets don't need to be near the oven. The space taken up by plastic detergent bottles can be utilized for other purposes.
No need to prime
Liquid detergent requires a priming action. If the detergent line is not primed, no detergent flows.
Liquid detergent must be within 6 feet of the oven and can't be higher than the pump. Tablets don't need a prime.
Packing Size:
15 Tabs Bottle