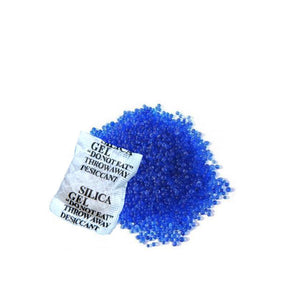 Silica Gel
Regular price $145.80 Sale
*Product images are for illustrative purposes only and may differ from the actual product.
Description
Silica gel is an amorphous and porous form of silicon dioxide (silica), consisting of nanometer-scale voids and pores. It adsorbs moisture from air to control the humidity level and prevent the growth of mould or spoilage of the item.
Indicating and Non-indicating Silica gel.
The blue indicating silica gel is a bead or granule that contain cobalt chloride. The cobalt chloride act as an indicator that changes it's colour from blue to pink when it becomes saturated. The non-indicating silica gel (white) serves the same purpose but it do not show saturation result.
Uses: 
Ideal for use during transportation and storage of electronics, cosmetics, medication, and apparels, etc.


Safety Information

| | |
| --- | --- |
| GHS label | Not applicable |
| Signal word | Not applicable |
| Prevention | Not applicable |
| Storage | Not applicable |
| Personal Protective Equipment | Not applicable |
Packaging Size
5g per sachet - 1000 sachets per tin

10g per sachet - 1000 sachets per tin
100g per sachet - 100 sachets per tin
250g per sachet - 40 sachets per tin
500g per sachet - 20 sachets per tin
1kg per sachet - 10 sachets per tin
12.5kg per bag (loose - White)

25kg per drum (loose - All Blue)
Please contact us for other packaging sizes.
Click here to request for a quote.