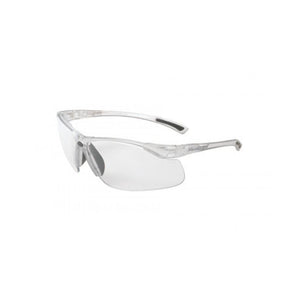 KLEENGUARD V30 Safety Spectacles, Clear, Anti-Fog
Regular price $18.36 Sale

Now available on GrabMart Islandwide delivery.


Sometimes the only thing standing between you and a serious industrial accident is your eye protection.
That's why you need KLEENGUARD Brand Eye Protection. Plus, with all the added features for comfort and flexibility, it's easy to see why more workers wear it for protection and want it for comfort, flexibility and style.
Proven Impact Protection
KLEENGUARD Eyewear Protection offers a variety of options that meet ANSI Z87.1+ and EN 166:2001 safety standards.
Added Comfort and Flexibility
Our state-of-the-art eyewear design includes wrap-a-round lenses, flexible temples, padded nose bridges and other features to enhance your comfort and job performance.
KLEENGUARD V30 Flexible Eye Protection
Now you have more flexibility in eye protection. KLEENGUARD V30 Flexible Eye Protection combines valuable impact protection with ratcheted temple for enhanced comfort and flexibility. These features help encourage more acceptance on the job and increased compliance with safety regulations.
Features
Impact resistant Polycarbonate lens
Wraparound lens for better eye coverage
99.9% UVA/UVB protection
Comfortable, padded nose bridge
Special flexible temples for added comfort
Help prevent fogging in high-humidity environments or when temperature shifts happen rapidly.
Packing Size:
Per Pair
12 Per Pair