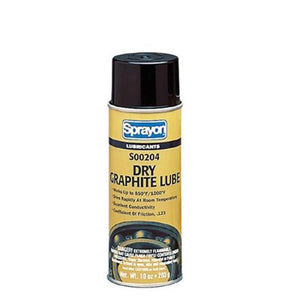 Sprayon® S00204 Dry Graphite Lubricant
Regular price $10.50 Sale

Now available on GrabMart Islandwide delivery.

Sprayon® S00204 Dry Graphite Lubricant is a high lubricity graphite that adheres to most surfaces with minimum surface preparation. It air dries rapidly at room temperature to provide clean, long-wearing lubrication. This lube is also conductive and may be used where lubrication and electrical properties are both required. Effective in temperature up to 850°F. constant and 1000°F. intermittent. Low friction coefficient (.123) allows parts to move easily.
USES
• Pre-assembly lubrication of moving parts
• Mechanisms of vending machines and parking meters
• Automotive and industrial gaskets
• Bearings
• Chains
• Springs
• Locks
• Bushings
• Gaskets
APPLICATION
Maximum performance is achieved when the metal surfaces to be protected are clean, dry and free of rust, oil and mill scale. Product should be sprayed in a well ventilated area. Sprays best at room temperature (70F.) Shake well before using. Spray at a distance of 10" to 12" from surface.
Packing Size:
10oz aerosol can