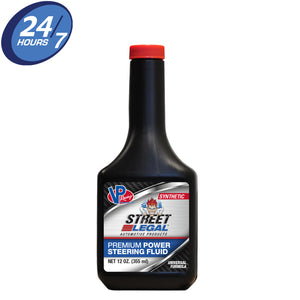 VP® Street Legal Power Steering Fluid - Synthetic Universal Formula
Regular price $10.50 Sale

Now available on GrabMart Islandwide delivery.

DESCRIPTION 
STREET LEGAL™ Synthetic Power Steering Fluid is a universal fluid designed for trusted performance and ultimate protection of power steering systems in most foreign and domestic passenger cars and light trucks. It is approved and compatible for top-off with all power steering fluids. 
Street Legal Synthetic Power Steering Fluid is formulated with synthetic base stocks and advanced additive technology to deliver optimum system wear protection and trouble-free operation under severe conditions and extreme temperatures. It also prevents system corrosion and oxidation while protecting power steering pumps and hoses. 
PERFORMANCE BENEFITS 
Superior anti-wear properties protect critical power steering system components

 

Protects and conditions seals and hoses to prevent system leaks

 

Minimizes power steering pump squealing, even at low operating temperatures

 

Optimum high-temp protection with added resistance to thermal breakdown

 

Excellent fluidity and performance in cold operating temperatures

 

Also recommended for severe, high-performance racing applications

 
PRODUCT APPLICATION 
Street Legal Synthetic Power Steering Fluid meets universal system requirements, including: 
American Motors Corporation C4124 
Audi PN G002000 
BMW ZF TE-ML 09 
DaimlerChrysler MS1872, MS5931F & G, MS9602 (ATF+4), MS9933A & MS1872 
Ford M2C195A, M2C33F, ESW-M2C128 C&D, M2C128D, MS2195A, M2C138C & M2C138CJ 
GM 9985010 (Saginaw Power Steering), 9985835 & 89021184 
Hyundai/Kia PSF-3 
Mercedes Benz PN 00 989 8803 
Mitsubishi PS Fluid/Diamond SP III 
Navistar TMS 6810 
Nissan PSF-II 
Saab PN 30 09 800 
Subaru PN K0209A0080 
Volkswagen VW-TL-570-26 & VW-TL-52146 
Made in USA
Packing Size:
12oz Bottle 
This product is now available at our 24/7 "One-Stop Shop".
Click here for menu.
Singapore's only 24/7 Race Fuels, Methanol & Adblue "One-Stop Shop" now open! Motor sports enthusiasts will be able to purchase VP Racing Fuels & Lubricants, BestChem Methanol as well as Adblue round the clock at 60 Senoko Road, Singapore 758124.