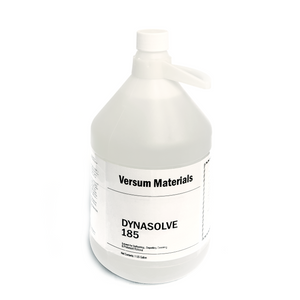 Amine-cured Epoxy Cleaning Solvent
Dynasolve 185 is a formulated solvent used to remove amine-cured epoxy systems in both electronic and industrial applications. It contains a proprietary blend of ingredients that facilitate polymer removal and prevent the depositing of particles back onto a part.
Cleaning Application:
Depotting and decapsulating of electronic components.
Industrial epoxy removal and cleaning.
Advantages:
More efficient than acetone, MEK & other solvents
Formulated to be highly selective
No chlorinated, acidic or caustic components
High resin loading capacity allows for reuse and reduced cost of ownership
High flash point
Materials Removed:
Amine-cured epoxy
Many types of inks
Acrylic emulsions
Product usage guidelines
Heat Dynasolve 185 to 200°F (93°C) and immerse part.
Observe carefully. If epoxy appears unaffected after 1 hour, increase temperature to 250° - 300°F (121° - 148°C)
After successful removal of epoxy, rinse with alcohol or water.
If epoxy appears unaffected after 2 hours, call for technical support.
Material Compatibility:
Recommended materials including:
All metals
Teflon
Polyethylene & polypropylene
Avoid materials including:
Specifications:
Specific gravity: 1.04
Boiling point: >369°F (>187°C)
Flash point: 207°F (97°C)
Packing Size:
1 Gallon Bottle