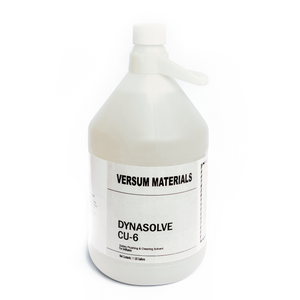 Urethane Cleaning Solvent
Dynasolve CU-6 is a formulated cleaning solvent used to remove cured urethane materials and flush uncured urethane materials. It is used primarily in spray polyurethane foam and industrial urethane cleaning applications. It is non-chlorinated, non-flammable (by U.S. Department of Transportation definition), and non-ozone depleting.
Cleaning Applications:
Spray polyurethane foam equipment cleaning
Industrial urethane removal and cleaning
Urethane processing equipment and line flushing
Polyurethane mold cleaning
Advantages:
More efficient than acetone, MEK & other solvents
High loading capacity and recyclability allows for reuse and reduces cost of ownership
Non Chlorinated, nonflammable (by U.S. DOT definition), and nonozone depleting.
Removes both cured and uncured urethane materials
Designed to be highly selective
High flash point
Materials removed: 
Cured urethane materials
Urethane based adhesives
Crystallized isocyanate
Uncured urethane materials
Product Usage Guidelines
Removing Cured Urethane Materials
Immerse part in Dynasolve CU-6 at room temperature.
Observe carefully. If cured urethane appears unaffected after 1 hour, heat solvents to 130°- 150°F (55° - 60°C).
If urethane appears unaffected after 2 hours, call for technical support.
Removing Uncured Urethane Materials
After ensuring that liquid isocyanate has been removed from the system by utilizing Dynasolve ISO-neutralizer, introduce room-temperature Dynasolve CU-6 to the system to remove polyols, uncured urethane, and other urethane intermediates.
Mild heating of solvent will produce faster result.
Material Compatibility
Recommended materials including:
All metals
Teflon®
Polyethylene & Polypropylene
Butyl rubber
Silicone rubber
Kalrez
Mild Steel
Halar
Melamine
Nylon 101
Avoid materials including:
Viton®
PVC
Liquid isocyanate
ABS
Nitrile rubber (Buna- N)
Lexan 
Lucite®
Neoprene
PET
Phenolic
Polyester
Specifications:
Specific gravity: 1.06
Boiling point: >392°F (>200°C)
Flash point: 192°F (89°C)
Packing Size:
1 Litre Bottle
1 Gallon Bottle