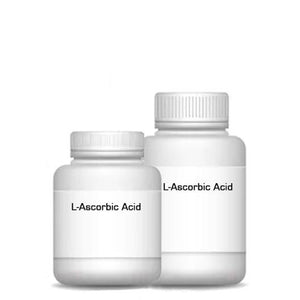 L-Ascorbic Acid
Regular price $70.00 Sale
*Product images are for illustrative purposes only and may differ from the actual product.
L-ascorbic acid is an organic compound with formula C6H8O­6 originally called hexuronic acid. It dissolves well in water to give mildly acidic solutions. It is a mild reducing agent.
L-ascorbic acid is used in a range of industrial and manufacturing applications, including as a developing agent and preservative in photo production, and in water purification, where it is used to help remove the taste of iodine in sterilized, potable water. It is also used in fluorescence microscopy, to understand cell biology. In this application, ascorbic acid helps increase fluorescence, making cells more visible to researchers. L-ascorbic acid is also used as a component in plastic manufacturing.
Properties

Cas No
50-81-7
Synonym

Hexuronic acid, Ascorbic acid, vitamin C
Chemical Formula

C

6

H

8

O­

6 
Physical State
Solid
Appearance
White or slightly yellowish crystalline powder
Purity/Standard

>99%

Grade Standard
Laboratory grade
Packing Size:
250g bottle
500g bottle