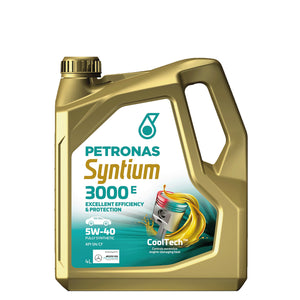 PETRONAS Syntium 3000 E 5W-40
Regular price $95.04 Sale
Specially Engineered Ultimate Performance Engine Oil
PETRONAS Syntium 3000 E 5W-40 is formulated with °CoolTech™ to fight excessive engine heat. °CoolTech™ targets the critical heat zones – engine parts affected by excessive heat inside the engine to effectively absorb & transfer the excessive heat and regulates the temperature, defending the engine critical components from damaging and loss of performance.
PETRONAS Syntium 3000 E 5W-40 is suitable for all types of passenger cars especially the ultimate performance car models such as Mercedes-Benz and BMW including gasoline and diesel engines not equipped with a diesel particulate filter system and latest high performance cars fitted with fuel injections, multi-valves, turbocharges or superchargers operating under most severe conditions.
The experience gathered by PETRONAS on the F1 circuits and most important motoring events and competitions has enabled the development of PETRONAS Syntium; a range of hi-tech lubricants capable of meeting the needs of new generation engines – both on track and on the road.
Note: Always consult your owner's manual to check recommended viscosity grade and specifications for your particular vehicle.
Main benefit(s):
Outstanding High Temperature Oxidation Control, delivering lubrication stability and prevents car breakdowns
Also delivers:
Withstanding high temperature lubricant evaporation loss to stop premature thermal degradation to help preventing engine failure from wear & tear.
Superior fuel economy.
Longer drain capability
Instant start-up lubrication.
Specifications and Approvals
PETRONAS Syntium 3000 E 5W-40 is a fully synthetic lubricant that meets and exceeds below performances:-
Meet or Exceeds the performance requirements of:
Has the following builder approvals:
MB-Approval 229.5
BMW Longlife 01
VW 502 00/505 00
Porsche A40
Renault RN0700/RN0710
Meets or Exceeds the following builder requirements:
Packing Size 
4 Litres Bottle