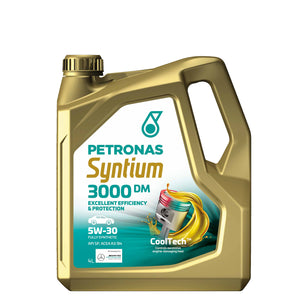 PETRONAS Syntium 3000 DM 5W-30
Regular price $95.04 Sale
Developed with °CoolTech™ technology to control engine-damaging heat
PETRONAS Syntium 3000 DM 5W-30 is a fully synthetic lubricant developed with °CoolTech™ technology that effectively controls the heat, resisting oxidation and preventing oil degradation and deposit build up, to protect parts and maintain engine efficiency for the full drain interval.
PETRONAS Syntium 3000 DM 5W-30 is especially designed for passenger cars, SUVs and vans using direct injection turbocharged gasoline engines and diesel engines such as in Mercedes-Benz (please refer to the owner's manual). It is also suitable for vehicles running on biofuels and those equipped with after treatment exhaust system, and emission control devices such as catalytic converters; fuel injectors, multi-valves or turbochargers operating under severe conditions. PETRONAS Syntium 3000 DM 5W-30 is formulated to provide protection against low-speed pre-ignition (LSPI) for turbo charged direct injection gasoline powered vehicles and meets the latest API SP specification.
Thanks to our experience in Motorsports, powering the most efficient hybrid engine, we developed PETRONAS Syntium, a complete range of lubricants, to help drivers to maximize every drop of energy.
Note: Always consult your owner's manual to check for recommended viscosity grade and specifications for your specific vehicle.
Benefits:
Exceptional resistance to oil degradation. Effectively controls sludge throughout the engine, ensuring every part of the engine performs at its maximum efficiency, for higher power conversion and lower emissions.
Exceptional lubrication capability to protect against abnormal wear in the valvetrain, cylinder wall and timing chain providing vital defense against engine damage that leads to deterioration in engine performance and increase in emissions.
Exceptional control of damaging heat to prevent turbocharger and piston deposits, to extend the life of your engine parts, maximising engine efficiency and delivering maximum performance for longer.
Approvals, Specifications and Recommendations

Specifications:
Approvals:
MB-Approval 229.5
BMW LL-01
Renault RN 0700/0710
Typical Physical Data
| | | | |
| --- | --- | --- | --- |
| Parameters  | Method | Unit | Typical Value |
| Appearance | - | - | Bright and Clear |
| Density @ 15ºC | ASTM D 4052 | g/cm3 | |
| Kinematic Viscosity @ 100ºC | ASTM D 445 | mm2/s (cSt) | |
| Viscosity Index | ASTM D 2270 | - | |
|  Flash Point COC | ASTM D 92 | °C | |
| Sulphated Ash | ASTM D 874 | % | |
| TBN | ASTM D 2896 | mgKOH/g | |
| CCS at -30 ºC | ASTM D5293 | mPa*s | |
| Pour Point | ASTM D97 | °C | |
Packing Size
4 Litres Bottle