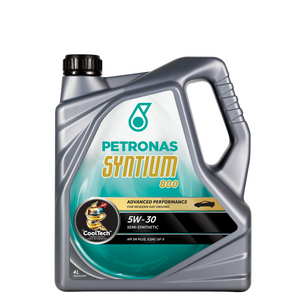 PETRONAS Syntium 800 5W-30
Regular price $78.00 Sale
Extreme Performance Synthetic Blend Engine Oil
PETRONAS Syntium 800 5W-30 is formulated with °CoolTech™ to fight excessive engine heat. °CoolTech™ targets the critical heat zones – engine parts affected by excessive heat inside the engine to effectively absorb & transfer the excessive heat and regulates the temperature, defending the engine critical components from damaging and loss of performance.
PETRONAS Syntium 800 5W-30 is formulated to provide protection against low-speed pre-ignition (LSPI) for turbo charged direct injection gasoline powered vehicles and meets the latest API SN PLUS specification.
PETRONAS Syntium 800 5W-30 is recommended for use in all type of passenger cars and latest model high performance cars fitted with fuel injections, multi-valves, turbochargers or superchargers operating under the most extreme conditions.
The experience gathered by PETRONAS on the F1 circuits and most important motoring events and competitions has enabled the development of PETRONAS Syntium; a range of hi-tech lubricants capable of meeting the needs of new generation engines – both on track and on the road.
Note: Always consult your owner's manual to check recommended viscosity grade and specifications for your particular vehicle.
Main benefit(s):
Advanced high temperature oxidation control, delivering lubrication stability and prevents car breakdowns.
Also delivers:
Advanced high shear stability, delivering stay-in-grade viscosity in all conditions.
Advanced fuel economy.
Instant start up lubrication – minimize friction and start up wear.
Approvals, Specifications and Recommendations
PETRONAS Syntium 800 5W-30 is a semi synthetic lubricant that meets and exceeds below performances:-
Approvals and Specifications:

| | |
| --- | --- |
| Parameters  | 5W-30 |
| Density @ 15 ºC, kg/l | 0.86 |
| Pour Point ,ºC | -39 |
| Kinematic Viscosity cSt | |
|                         @ 40 ºC | 59 |
|                         @ 100 ºC | 10.0 |
| Viscosity Index | 157 |
| Cold Cranking Viscosity cP @ -30 ºC | 5500 |
| Suphated Ash, %wt  | 0.8  |
| TBN, mg KOH/h | 7.0 |
Packing Size 
4 Litres Bottle