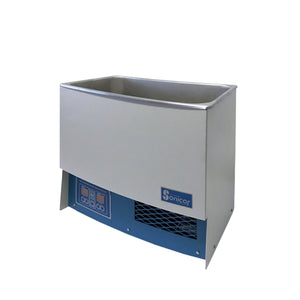 Sonicor SC-321
Regular price $3,456.00 Sale
Designed to quickly and safely remove oil, tar, agar, food, rust, oxide, ink, blood, etc. from glassware, surgical and dental instruments, electronic components, precision parts and many other items hard to clean. 
The Sonicor "S" series combines the rugged durability of Sonicor ultrasonic generator technology, and piezoelectric composite transducers, in an attractive powder coated steel cabinet.
The "S" series is available in capacities from gallon (1 litre) to 10 gallons (39 litres). A complete line of Sonicor options and accessories, including heaters, timers, covers, baskets and insert trays, is offered to suit every precision cleaning applications.
Standard Features:
Compact One Piece Construction
Seamless, round cornered stainless tank
Drain valve (3 quart models and larger)
Easy to use controls
Rugged steel cabinet with textured powder coated finish
Accessories:
Covers, baskets (drain slots), Insert Trays (Solid), and Beaker Racks are constructed of Stainless Steel.
0-60 minute mechanical cycle timer
External contact tank heater
Stainless baskets, covers & insert trays
Variable ultrasonic intensity control