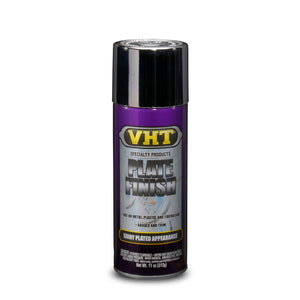 VHT Plate Finish™
Regular price $28.08 Sale
VHT Plate Finish™ is a unique quick-drying formulation specifically created for application on metal, glass, and wood or sealed plaster surfaces. This non-tarnishing epoxy finish has outstanding brilliance and corrosion resistance. VHT Plate Finish™ is easy to use and dries in minutes. Excellent for touch-up, refinishing and decorative.
Application
Instrumentation, Picture Frames, Tail Light reflectors, Pottery, Lamps, Outdoor Lighting

Coating System
VHT provides a high-performance coating system for the ultimate protection and quality. This system includes surface preparation and Plate Finish™.
Coat  SP5251 Chrome Plus

Dry Time
Dries to the touch in 30 mins. Dries thoroughly overnight. No curing required.

Finish
Gloss
Net Weight
11 oz. (312g)