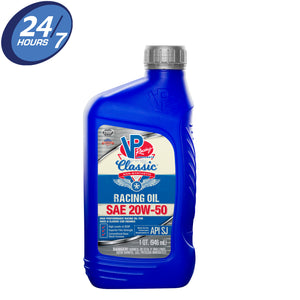 VP Classic Non-Synthetic Racing Oil SAE 20W-50
Regular price $32.00 Sale
Now available on GrabMart Islandwide delivery.
VP Classic Non-Synthetic Racing Oil are formulated with high-quality mineral base stocks and a select balance of additives to deliver superior film strength and wettability of critical engine parts while running or idle. They contain enhanced levels of ZDDP. Also, they are formulated with a strong detergent dispersant package as well as aggressive rust and corrosion additive to protect engines that run excessively hot and create large amounts of moisture at shut down.
Provides excellent protection for both flat tappet and roller cams.
SAE 30 is suitable for most air-cooled, naturally aspirated, turbocharged or supercharged gasoline engines in high-performance racing and street applications. They are designed to protect older style push rods and both flat tappet and roller cams.
SAE 10W-30 and 20W-50 multi-viscosity racing oils are designed for turbocharged and non-turbocharged gasoline race and street engines. These oils can be used for dirt, mud, drag and classic car applications where an SAE 10W-30 or SAE 20W-50 non-synthetic racing oil is recommended.
Do NOT mix oil additive supplements with this product.
Not designed to be used with catalytic converters.
Made in USA
Packing Size:
1 Quart Bottle 
This product is now available at our 24/7 "One-Stop Shop".
Click here for menu.
Singapore's only 24/7 Race Fuels, Methanol & Adblue "One-Stop Shop" now open! Motor sports enthusiasts will be able to purchase VP Racing Fuels & Lubricants, BestChem Methanol as well as Adblue round the clock at 60 Senoko Road, Singapore 758124.