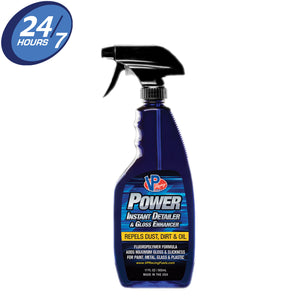 VP Power Detailer & Gloss Enhancer™
Regular price $25.00 Sale
Now available on GrabMart Islandwide delivery.
Adds the most gloss and slickness to the paint finish. Repels dust, dirt, and oil. Water-based, environmentally friendly formula.
VP Power Detailer & Gloss Enhancer™ provides unsurpassed slickness and gloss in one simple application. Simply spray and wipe all exterior automotive surfaces at the final step in your detailing process. The fluoropolymers in VP Power Detailer & Gloss Enhancer™ provide maximum slickness, gloss and protection for all automotive surfaces as well as dust and dirt repellency.
Unsurpassed slickness & gloss in one simple application.
Can be used on wet or dry surfaces.
Environmentally friendly. Contains no petroleum chemicals.
Can be used to clean light dust and dirt.
Made in USA
Packing Size:
502ml Bottle 
This product is now available at our 24/7 "One-Stop Shop".
Click here for menu.
Singapore's only 24/7 Race Fuels, Methanol & Adblue "One-Stop Shop" now open! Motor sports enthusiasts will be able to purchase VP Racing Fuels & Lubricants, BestChem Methanol as well as Adblue round the clock at 60 Senoko Road, Singapore 758124.