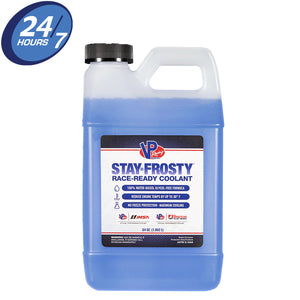 VP Stay Frosty Racing Coolant
Regular price $45.00 Sale
Now available on GrabMart Islandwide delivery.
STAY FROSTY is a proprietary VP Racing Fuels coolant formulated for high-compression, high-heat racing engines. It contains a specialized blend of wetting agents that drastically improve coolant's ability to transfer heat away from high temperature cylinder heads. Temperatures of engines are reduced by up to 100° F compared to conventional glycol-based coolant. This increases the density of the air/fuel mix, and allows ignition timing to be safely advanced without the threat of detonation – resulting in more power and torque.
Ready-to-Use – Just Pour In
Contains No Slippery/Hazardous Glycol
Reduces Engine Temps By Up To 100° F
100% Water-Based Formula
Maximizes Horsepower and Torque
No Freeze Protection – Maximum Cooling
Non Toxic and Biodegradable
Blended with Chemically Stable Reverse Osmosis Water
Coolant change Intervals
- 2 years or 48,000 kilometers (whichever comes first)
- if using other coolants, drain and flush completely when replacing old coolant from cooling system, to avoid incompatibility.
- NEVER mix or top up with water or additives - ONLY top up with neat Stay Frosty Race Coolant.

- Use in clean cooling system that has not been previously neglected.
Note: Stay Frosty Race Coolant are blended with a very light blue dye for aesthetic purpose, and the shade may vary slightly from batches to batches. At times, the Stay Frosty Race Coolant blue dye is so light that it looks like clear water when its inside the cooling systems, and this is completely normal.
Made in USA
Packing Size:
64oz / 1.89 Litres Bottle
This product is now available at our 24/7 "One-Stop Shop".
Click here for menu.
Singapore's only 24/7 Race Fuels, Methanol & Adblue "One-Stop Shop" now open! Motor sports enthusiasts will be able to purchase VP Racing Fuels & Lubricants, BestChem Methanol as well as Adblue round the clock at 60 Senoko Road, Singapore 758124.