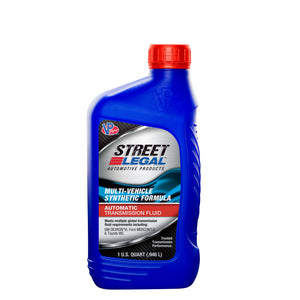 VP Street Legal™ Multi-Vehicle Synthetic Formula Transmission Fluid
Regular price $14.50 Sale



Now available on GrabMart Islandwide delivery.



DESCRIPTION
STREET LEGAL™ Multi-Vehicle Synthetic Transmission Fluid is specially engineered to meet and exceed the service requirements of multiple global automatic transmissions with one lubricant (see application guide). It is recommended for a broad-range of transmission applications, including; GM DEXRON®-VI, Ford Mercon® LV, Toyota WS, Honda DW-1, Nissan Matic S and Hyundai Diamond SP-IV. It is also backward compatible for use in transmissions previously serviceable by obsolete DEXRON®-III(H) and Ford Mercon® brands. 
Street Legal Multi-Vehicle Synthetic Transmission Fluid is formulated with a proprietary combination of premium synthetic base stocks and advanced additive technology to deliver peak transmission performance and long-term protection of critical components. 
PERFORMANCE BENEFITS
One fluid for multiple global automatic transmission applications 

Superior anti-wear properties protect critical transmission components 

Balanced frictional properties for smooth shifting 

Optimum performance in 6-speed transmissions 

Superior shear stability delivers stay in grade performance 

Protection against varnish and sludge formation 

Superior thermal stability and oxidation resistance 

Outstanding low-temperature performance and fluidity 

Compatible with conventional fluids in complete fluid exchange or top-off 

Reduced service liability by minimizing possibility of fluid misapplication 
PRODUCT APPLICATION
See Application Guide (Page 2 of Technical Data Sheet) for full range of suitable global transmission applications. 
Not recommended for use in Continuously Variable Transmissions (CVT), Dual Clutch Transmissions (DCT) or applications that require a non-friction modified fluid, such as Ford Type F or Ford Type G (European transmissions). 
Made in USA 
Packing Size:
1 Quart Bottle